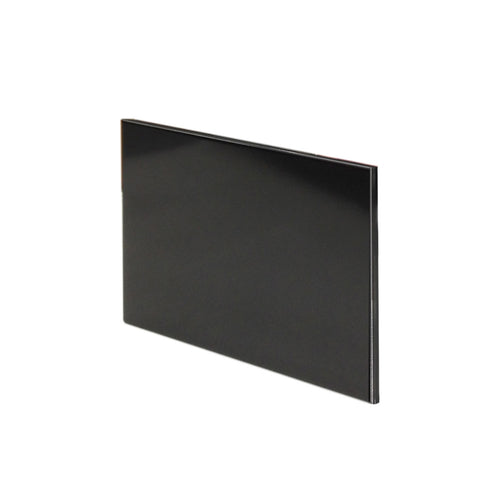 Removable logo plate for K3 lectern
Brand: Urbann
This accessory product is designed to be added to your K3 Urbann brand lectern
Metallic plate, accepts magnets, powder coated charcoal metallic color
DIMENSIONS
Your Urbann lectern or accessories will ship from Victoriaville Canada. Most orders usually ship in under 5 business days, unless non-standard customizations are being made (logos that need approval or other non-standard build modifications for example). This map below is a good estimate for how long it will take to deliver once shipped.
Delivery
Upon delivery - Damage
Please INSPECT your merchandise upon receipt. Visible damage to packaging:
Refuse shipment if the damage was caused to the packaging. Contact us immediately to report the damage. Claims can't be filed by us if the damage is reported after the delivery has been accepted without indications of possible damage.
Hidden possible damage
If you believe that the package can hide possible damage (eg a sound of broken glass), please mark the delivery note accordingly. In cases where
the driver does not give you time to inspect your package, enter "The driver did not want to wait for the inspection - Possibility of concealed damage" on your delivery before signing. Breakage may occur during shipment, including glass and wood, although the exterior of the packaging is intact.
Up to 7 days after delivery - Shortages or discrepancies
Upon receipt of the goods, please check what you have received. If there are errors or gaps in relation to your order, please contact us immediately. We must be contacted within 1 week of receipt of goods. After a period of 1 week, we can not accept responsibility for errors or deficiencies.
30 Day Returns
Sometimes things don't quite work out. We understand and in the unfortunate circumstance that you need to return your item, we'll make it simple. Returns are accepted up to 30 days after delivery of your order. There will be a 15% restocking fee charged for all returns that were not due to an error on our part,
shipping damages, or DOA / Defective product. For damaged orders, please contact us as soon as possible by email!
How does it work
If your product was delivered to you damaged, we will first offer to replace the damaged parts at no cost to you. If your product was delivered damaged, please email us and include photos of the damage.
If your product was delivered okay, but you no longer want to keep the product, we'll ask that you be responsible for return shipping equal to 3.5% of your product purchase price (to be deducted from original payment). 
1. Email us with your order number and a request to start a return. 
2. Put the unused item(s) in its original packaging
3. We will send you the return label by email. Print it out and put on the return package (remove/cover old labels). Drop off at Fedex, or arrange a Fedex pickup.
4. We inspect the item and we refund your original payment method within 15 days after receiving the return.
*Customized items cannot be returned and refunded. 
Customized items would be :
A special custom color ordered for a lectern (a color that we don't usually carry)

A custom built lectern with modifications that we don't currently offer for sale on our website

A logo. The logo sticker itself can't be returned because we could not sell it back to anyone else

 
Returnable :
An order with no customized items is fully returnable.

Only the customized items of an order are non-returnable. Example: a lectern with a logo. The lectern is returnable; but not the logo.

A set of any standard accessories are returnable
All returns must include the following:
1. Original packaging (manufacturer's box, packing, plastic bags, etc.)
2. Manufacturer documentation (manuals, warranty cards, registration information, etc.)
3. The return must be complete and include all accessories
4. Original intact UPC bar code. Do not cut out the UPC code (for rebates or any other reason) until you have examined and tested the product to your satisfaction. Removal of the UPC code voids any possibility of return regardless of RMA or credit request status.
2 Year Warranty; Guarantee of Quality
Urbann guarantees the quality lecterns they produce for a period of two years. These guarantees are valid under normal use of parts, labor and lecterns that we provide to our customers.
We compare our prices to our competitors' prices on a regular basis to make sure we're giving you the best price available online. But just in case we've overlooked something, here's our promise to you: If you find the same product available for a better price on another web site, let us know and we will see if we can match their price. If we can't, then we will recommend you purchase from them instead.
Lowest Price Guarantee Terms & Conditions
Competitor's product must be the identical model from an authorized U.S. dealer. Specifically, the product must have the same U.S. manufacturer's warranty, model number, contain the same components, and must be brand new (not refurbished). Competitor's product must be in stock. We reserve the right to verify another online company's product availability and price before issuing a price match. We do not price-match on products listed on auction websites or member-only websites (such as sites that require a periodic membership fee). The Lowest Price Guarantee does not apply to obvious pricing errors or clearance or close-out items (since they are one-of-a-kind and priced according to their condition). The Lowest Price Guarantee applies to the total cost to purchase and deliver the item, including shipping, processing, handling, taxes, and other applicable fees. The Lowest Price Guarantee applies to products offered online via e-commerce websites. It does not apply to private party sales or products sold at "brick-and-mortar" stores. We reserve the right to refuse an order on which we would incur a loss. 
To receive a price match use the contact us to send us the following details:
Your full name
Your e-mail address
Your phone number
Name of the product you would like to purchase
Competitor's price (including shipping, processing, taxes, and all other fees)
Web site address (URL) of the competitor's product offering
Share This Product
---