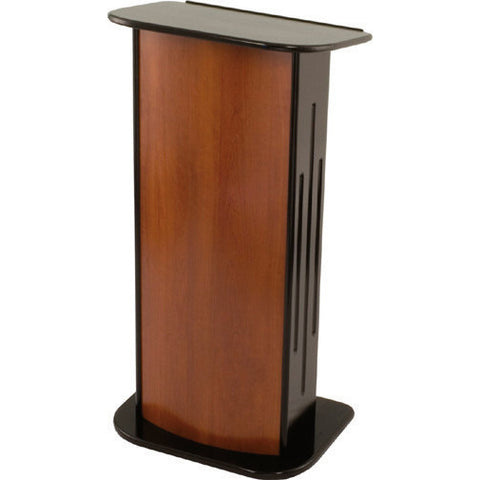 Classic Lectern - Claridge Products 346
Brand: Claridge Products
346 CLASSIC LECTERN
FEATURES:
Sleek, modern styling lectern has spacious, sloped reading surface, two shelves
Black hardwood top, base, and decorative, fluted side panels
Curved laminate front panel
Lectern height is approx. 44"; width 24"; depth 17-5/8"
Glides furnished to base
Weight 70 lbs.
Black Hardwood / Cherry Laminate Finish
We compare our prices to our competitors' prices on a regular basis to make sure we're giving you the best price available online. But just in case we've overlooked something, here's our promise to you: If you find the same product available for a better price on another web site, let us know and we will see if we can match their price. If we can't, then we will recommend you purchase from them instead.
Lowest Price Guarantee Terms & Conditions
Competitor's product must be the identical model from an authorized U.S. dealer. Specifically, the product must have the same U.S. manufacturer's warranty, model number, contain the same components, and must be brand new (not refurbished). Competitor's product must be in stock. We reserve the right to verify another online company's product availability and price before issuing a price match. We do not price-match on products listed on auction websites or member-only websites (such as sites that require a periodic membership fee). The Lowest Price Guarantee does not apply to obvious pricing errors or clearance or close-out items (since they are one-of-a-kind and priced according to their condition). The Lowest Price Guarantee applies to the total cost to purchase and deliver the item, including shipping, processing, handling, taxes, and other applicable fees. The Lowest Price Guarantee applies to products offered online via e-commerce websites. It does not apply to private party sales or products sold at "brick-and-mortar" stores. We reserve the right to refuse an order on which we would incur a loss. 
To receive a price match use the contact us to send us the following details:
Your full name
Your e-mail address
Your phone number
Name of the product you would like to purchase
Competitor's price (including shipping, processing, taxes, and all other fees)
Web site address (URL) of the competitor's product offering
Share This Product
---